Kelsey Kaelin, Speech Language Pathologist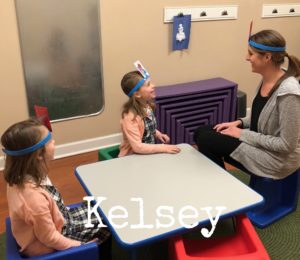 Education:I attended Indiana University in Bloomington, IN for undergrad studying Speech and Hearing Sciences and then obtained my Masters in Communication Sciences and Disorders from Saint Xavier University.
Advanced trainings and Areas of Interest:Expressive and Receptive Language Delay, Bilingual Language Development, late talkers, Autism, Pragmatic/Social communication, Fluency.
Prior Experience: I have experience working with school aged kiddos with a variety of communication needs including but not limited to articulation/phonology disorders, fluency disorders, social and pragmatic difficulties, hearing impairment, and Selective Mutism. I've spent two years working for Illinois' Early Intervention program servicing the birth-3 population. My experience with this population includes children with language delays, bilingual families, children with suspected autism and apraxia of speech, as well as "at risk" kiddos. I support a family centered approach and believe in maximizing each child's potential!
Who I Am: I grew up in "Kentuckiana," the southern border of Indiana and Louisville, KY! I fell in love with Chicago during my graduate school studies and couldn't see myself anywhere else. I enjoy summer beach time, going to concerts and festivals, and trying out new restaurants whenever I can!