Casey Prescott, Speech Language Pathologist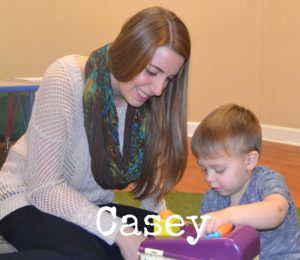 Education: I attended Marquette University obtaining both a Bachelor of Science in Speech Pathology and Audiology and Masters of Science in Speech Language Pathology.
Areas of Interest: : I love working with kiddos on developing their speech and language skills through interaction and play. I have a passion for working with children on the autism spectrum. I enjoy working closely with both parents and other therapist's and I love to participate in co-treatments with other therapists when possible so I am better able to help incorporate therapy strategies into a family's daily routines and into other speech sessions. My caseload currently consists of children who are on the autism spectrum, children with language and developmental delays and children with articulation disorders.
Prior Experience: I joined the All Bright Therapies team in 2014 where I have gained experience working with children from the ages of 15 months to 14 years. I have prior experience working with children in the Milwaukee Public school system and in the Marquette Speech and Hearing Clinic.
Who I Am: I was born and raised in the nearby suburbs of Glen Ellyn. After completing school in Milwaukee, I moved back to the Chicago area to complete my clinical fellowship. I enjoy exploring the city and trying new restaurants. I am involved in my community through volunteering at One Tail at a Time dog shelter and each March I look forward participating in the Chicago Polar Plunge to benefit the Special Olympics of Chicago.