Katie Paulus, Speech Therapist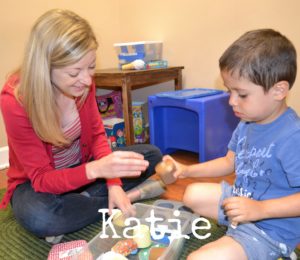 Education: I received my Bachelors degree in speech and hearing science from The University of Iowa and my Masters degree in Speech Pathology from Northern Illinois University.
Areas of Interest: Receptive and expressive language development, articulation and phonological disorders, oral motor and feeding disorders. I am also certified in the Orton-Gillingham reading program designed for children with Dyslexia.
Prior Experience:  I completed my clinician fellowship at the Center for Disabilities and Development in Iowa City, Iowa where I was a part of a multidisciplinary diagnostic team. After moving back to Chicago in 2011, I worked in a pediatric clinic in the northern suburbs, providing therapy to children of all ages.
Who I am: My husband and I have lived in Chicago for the past four years and love every minute of it. In my free time I love exploring Chicago, trying new restaurants, cooking and spending time with family and friends.