Katie Devore, Speech Therapist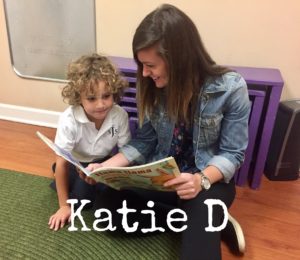 Education: I received my Bachelors degree in communication sciences and disorders from Augustana College and my Masters degree in Speech Language Pathology from the University of Iowa.
Areas of Interest: I enjoy working with children with a wide range of skill levels. I have previous experience treating receptive and expressive language disorders, apraxia, speech sound disorders, pragmatic language disorders, fluency disorders. I have a passion for helping children with austim spectrum disorder reach their communication goals. I have completed trainings for PECS (Picture Exchange Communication System) and PROMPT (Prompts for Restructuring Oral Muscular Phonetic Targets). I am also certified in the Orton-Gillingham reading program designed for children with Dyslexia.
Prior Experience: Through my graduate program at the University of Iowa I had many unique experiences working with children with a variety of speech and language disorders, such as participating in UI Speaks, a week long Summer Program for Adolescents and Kids who Stutter. I completed my clinical fellowship at a pediatric outpatient clinic in the northern suburbs working within a multi-disciplinary clinic. I have been working as a pediatric speech-language pathologist for the last 4 years in the Chicagoland area. I am also trained in the SOS (Sequential-Oral-Sensory) Approach to Feeding.
Who I am: I am originally from Michigan, but have lived in Chicago for the last three years. I enjoy cheering for the Cubs, playing volleyball, and exploring the city!