Ashley Berman, Speech Therapist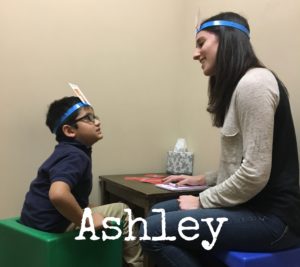 Education: I received both my Bachelors degree and my Masters degree in Speech Pathology from the University of Illinois.
Areas of Interest: Children with feeding dysfuction, picky eaters, children with language delay, late talkers, children with suspected Apraxia of speech, and Autism. I am trained in the SOS Approach to Feeding and have taken multiple courses on Apraxia.
Prior Experience:  I spent the first four years of my career working in a pediatric outpatient clinic in Austin, Texas. Most recently I lived in Indianapolis, Indiana, where I worked for a year and a half for a company doing home visits through Indiana's early intervention program. I also saw children in a clinic where I helped run a feeding group and worked with children with Autism who use assistive technology to communicate.
Who I am: My husband and I are so excited to have made this move back to our hometown of Chicago! We love being outside with our dog Stanley, spending time with family and friends, exploring Chicago's food and music scene, and most importantly, cheering on the Blackhawks and the Cubs!