Sara Connor, Occupational Therapist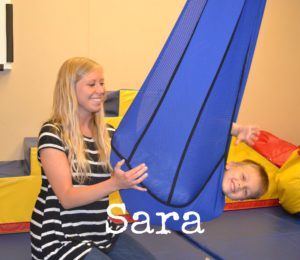 Education: I attended University of Illinois Urbana-Champaign where I received my Bachelor of Science in Kinesiology. After undergraduate school, I received my Masters of Occupational Therapy from Washington University School of Medicine in St. Louis.
Advanced trainings and Areas of Interest: When I was in graduate school I specialized in pediatric occupational therapy through clinical experience and my research lab under a pediatrician who worked at St. Louis Children's Hospital. I have previous clinical experience with fine motor skill development, sensory processing, and positioning and handling to develop postural control and promote independence in play and self care skills. I love working with children to develop self care skills, fine motor skills, and regulation.
Prior Experience: I completed my first graduate level clinical here at All Bright Therapies working with children in the Early Intervention Program and in the clinic with a wide variety of ages and diagnoses. I completed another graduate level clinical at Rush University Medical Center where I continued my experience working with children with orthopedic injuries. Prior to becoming an OT, I worked in a classroom of a therapeutic day school.
Who I Am: I am originally from LaGrange, IL. I moved to St. Louis for graduate school and now recently moved to Chicago. I am happy to be close to my family and friends and enjoy spending time with them. I also love watching sports, playing intramural sports, going to concerts, going for runs outside, traveling, and trying new food and restaurants.