Allison Ziff, Occupational Therapist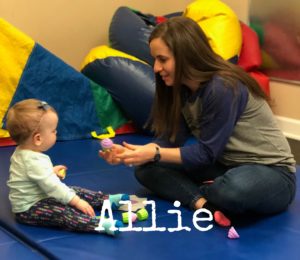 Education: University of Pittsburgh, B.S. in Sociology and Communications. Thomas Jefferson University, M.S. in Occupational Therapy
Advanced trainings and Areas of Interest: I am interested in sensory integration and working with kids with a wide range of abilities. I have clinical experience with kids with Autism and I feel passionate about helping to enable kids achieve their highest potential in everyday activities and routines.
Prior Experience: I have experience working with children of all ages and across many settings including job coaching individuals with intellectual and developmental disabilities and substitute teaching. My graduate level coursework was completed at Green Tree School and Services in Philadelphia, where I had the opportunity to work with children with special needs. Prior to my OT career, I worked in marketing and advertising in New York City. My experience has given me unique insight on how to work with kids and their families and the importance of collaborating with the entire team.
Who I Am: I am originally from central Pennsylvania but lived in Washington D.C., New York City, and Philadelphia before finally settling in Chicago. I enjoy exploring my neighborhood and checking out the amazing Chicago food scene with my friends and fiance. I love cooking, crafting, and playing with my dog, Bella!