Shannon Hildebrand, Speech Language Pathologist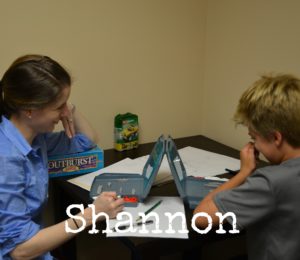 Education:Miami University-B.A. Speech Pathology and Audiology; University of Cincinnati- M.A.-Speech Language Pathology.
Advanced trainings and Areas of Interest: Dysphagia, Early Language Development, Articulation, Child Language, Traumatic Brain Injury, and Pediatric Feeding/Swallowing.
Prior Experience: My clinical fellow-ship as well as my first few years working as a clinician were completed at the Cincinnati VA Medical Center. My patient experience involved adults with traumatic brain injury as well as medically complex patients and patients with neurological disorders. I moved to Chicago during the winter of 2012. Since living in Chicago, I have provided speech services through skilled nursing facilities, home care and hospice care, and inpatient rehabilitation hospitals.
Following the birth of my son, I dove into the world of Pediatric Speech Pathology as I've watched him grow and thrive.
Who I Am: I have lived all over the United States, but now I call myself a Chicagoan. My husband, son, and I love to explore new play spaces, museums, and restaurants within the city as well as suburbs. In my spare time I enjoy running, new exercise trends like hot yoga and barre classes. My husband and I also love to cook and grill.