Clare Kilbride, Speech Therapist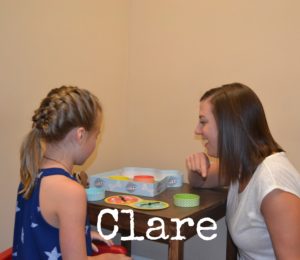 Education: I completed my undergraduate program in Communication Sciences and Disorders from Augustana College. I then completed my Masters degree in Communication Disorders and Sciences from Eastern Illinois University.
Areas of Interest: Autism, Augmentative Alternative Communication (AAC), Early Language Development, Phonology, Therapeutic Play Skills, and Expressive and Receptive Language Delays/Disorders.
Prior Experience: After graduating with my Masters degree, I completed my Clinical Fellowship Year in a multi-disciplinary therapeutic day school where I serviced children with a primary diagnosis of Autism Spectrum Disorder. I continued to work there for the first 2 years of my career and recently joined the All Bright Therapies team in February 2017.
Who I am: I was born and raised on the border of Iowa/Illinois in one of the Quad Cities, Rock Island. I moved to Chicago upon finishing graduate school. I enjoy spending time with family and friends, traveling, reading a good book, farmers markets, exercising, going to musicals, and cooking new things.