Sarah Steverson, Occupational Therapist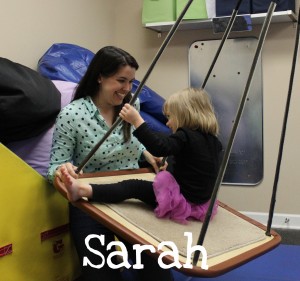 Education: University of Delaware, B.S. in Exercise Physiology, Minor in Spanish. Washington University in St. Louis School of Medicine, Master of Science in Occupational Therapy.
Advanced trainings and Areas of Interest: I love working on developing fine motor and self-care skills in kids with low muscle tone, sensory processing difficulties, and behavioral difficulties. I have a special interest in working with children with Down syndrome and, I enjoy the opportunity to treat in Spanish. I've received clinical mentoring and continuing education courses on developing postural control through handling and positioning, sensory processing, and feeding therapy.
Prior Experience: I completed my graduate level clinical work at St Louis Children's Hospital. Prior to joining the staff at All Bright Therapies, I worked at a pediatric therapy clinic in Arcadia, CA where we provided a therapy in homes, schools, and at our clinic to clients with a wide variety of diagnoses, ages, and cultural differences. As a therapist, I've loved collaborating with families and clinicians from different disciplines to provide a practical, fun, and well rounded treatment plan for my clients. I try to incorporate imaginative play in to therapy to make sessions fun for my clients and myself!
Who I Am: I am originally from Delaware, lived in St Louis for graduate school, and most recently lived in Pasadena, CA. My husband and I relocated to Chicago this summer to be closer to family. I love adventures: exploring new places, traveling, and trying new foods to name a few!